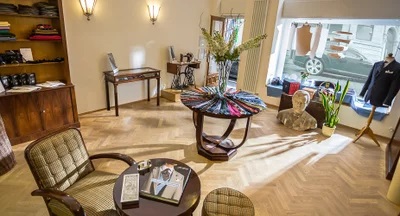 Situated close to Budapest's magnificent parliament building, Simon Skottowe Bespoke Tailors is an oasis for style conscious gentleman.
The ground floor, with its slightly Deco interior, combines retail, cutting and a fitting area while the sewing workshop is visible on the upper floor.
Simon's cutting style, both for the bespoke tailoring and the own label collection, is traditionally London suffused with Italian refinements. He works mostly with cloths from Holland and Sherry, Harrisons of Edinburgh and Smith's woollens as they offer a wide range of reliable quality cloth that tailors well.

All the bespoke cutting is done in house with Simon drafting all the patterns. He and his team of tailors and assistants work together to produce the final bespoke pieces.

Since 2005 Simon has also been offering a range of ready men's wear and accessories. First came knitwear from Gran Sasso who continue to be a fundamental and increasingly large part of the retail offering. The move to larger premises in 2015 gave space to expand the range. Ties and pochettes from Drake's of London followed together with socks and other accessories from leading Italian producers. More recent additions have been leather pieces from Il Bussetto, scarves and pochettes from Nuova Petronius and cashmere from Begg and Co.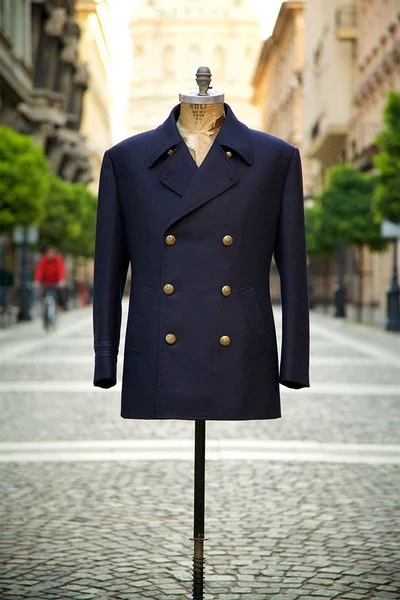 This diverse range of products were not chosen at random, but particularly selected by Simon following his personal criteria. He only buys from manufacturers, mostly historical companies, that have exceptional expertise and pedigree in their sector. Very often they are family businesses and some still run by the current generation of the founder.
The latest project has been the development of the Simon Skottowe own brand for trousers, shirts and polo shirts.
These are produced exclusively for Simon by expert sewing companies both in Italy and Hungary. Simon Skottowe now  offers a complete made-to-measure shirts service,  combining Simons cutting and design skills with the Albini  Su misure collection of fine Italian shirt fabrics.
For appointment or further information, please contact us.