The Bespoke Story
The world of bespoke and luxury shopping has a long and aristocratic history. London, more than other capitals, has maintained this culture and today it still thrives in the historical St. James and Mayfair districts. These were developed after the royal court moved into St. James Palace in 1698 and then spread northwards as the area behind Burlington House was transformed into what is today Savile Row and Bond Street. Many businesses in this area hold royal warrants and have been trading since the eighteenth and nineteenth centuries.





These days anyone can frequent 'luxury' shops, it's just a matter of having enough money, but this is not the case with bespoke tailors and shoemakers. To have things made for you takes time and today that shows you are in control of your own schedule, and have arrived.
Simon grew up close to London but it was not until he started university that he lived in the capital. All of a sudden Simon was surrounded by luxury shops: Liberty's, Selfridges, Fortnum & Masons, Harrods, the jewelry, shoe and fashion shops of Bond Street; not to mention the glorious Burlington Arcade. He was fascinated by the city, especially the west end, with its old historic woolen merchants and tailors trimmers. Unfortunately most are now gone but these Victorian establishments were the cornerstone of the bespoke tailoring trade. Beasley's in Ganton Street for canvases and trimming, Hunt and Winterbotham in Golden Square for woolens and worsteds and of course Berwick Street for all types of wonderful fabrics. Simon's fascination with the bygone world was beautifully translated into prints and designs for his Sherlock Holmes inspired degree graduation collection.
For an impressionable young man, with a taste for the good life, London was the ideal city to learn. Lina Stores in Greek Street for the best Italian food, Bibendum in Kensington for oysters and seafood and Maison Bertaux in SoHo for the most delicious cakes. I wouldn't want you to think that Simon was only interested in food because this is far from the truth but tucked between the hatters, shirt makers and perfume shops in Jermyn Street, and the surrounding arcades, are some of the finest purveyors of foods and wines in the world.

The world of bespoke is a rich are varied one. Some come to it as a birth right, others because they appreciate the expertise and attention they receive and those who use it as a way of climbing the social ladder. For the wealthy, bespoke is the highest form of luxury, while for those on the make it is an essential way of moving into an exclusive club. Many dubious characters grace the tailors shops on Savile Row knowing a good suit will lend them an air of respectability. Each house has their own individual style and a trained eye can spot the difference immediately. From a lean waisted silhouette from Huntsman to a softer shoulder and draped chest from Anderson and Sheppard and everything in between.
A few years after graduating from Harrow College of Art Simon moved to Milan. The late eighties was a bleak period for tailors as the international brands such as Armani, Versace etc. were the dominant players in menswear. Still an economic powerhouse Milan was and is a vibrant city able to constantly reinvent itself without loosing it's rich history. Through friends, notably Gavino Falchi, Simon was introduced to the world of the Milanese bourgeois. Many wealthy from family industries they enjoyed a quality of live few in Britain could imagine especially outside of capital city.




Simon took to this new life like a duck to water and was soon enjoying to the full the possibilities Milan offered. He cultivated a small circle of bespoke clients, both gentlemen and ladies and also developed a side line in exclusive soft furnishings. His 'radiator hats', created to avoid discoloration of the walls above radiators were a great hit with the house proud ladies.
With their finer fabrics and more fashion aware style Italian tailoring has a different vibe to that of London. Although not as dandyish as it's Neapolitan cousin Milanese tailoring has a slightly showy feel with the luxurious cloths from the world famous mills of Biella. Simon found this restrained, yet sophisticated, philosophy both intriguing and curiously suitable for modern life. From these two complimentary schools he distilled his signature look. Fine cloths are crafted into elegant, but not exaggerated shapes; completed with exceptional linings, buttons and canvases. Quality in Milan is not just the exterior it pervades everything.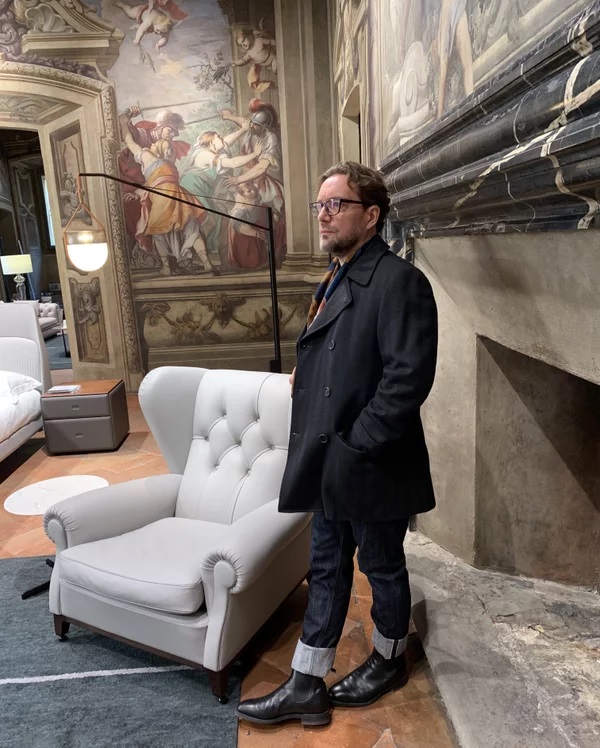 After being invited to Budapest to head up the design department of a large tailoring company he opened his own business in 2001. Since then he has worked tirelessly to bring back to the Hungarian capital the culture of bespoke and luxury menswear. Slowly expanding his current team of five take care of a demanding international clientele. Together they create bespoke tailored outfits for gentlemen, shirts and retail a carefully selected range of accessories and knitwear.
If you want to know how to look after your suit, read our blog post.
For appointment or further information, please contact us.